Attention VA Video Connect users: Make sure to regularly update your VVC app for the best video visit experience during your next appointment. Download the latest version on your iPhone or iPad here or on your Android device here.
Real-Time Access to Your VA Care Team Through VA Video Connect
VA Video Connect allows Veterans and their caregivers to quickly and easily meet with VA health care providers through live video on any computer, tablet, or mobile device with an internet connection.
Need Help? VA can help you get set up or troubleshoot technical problems. Call the Office of Connected Care Help Desk at (866) 651-3180 24 hours a day, 7 days a week.
Test your device. Visit the VA Video Connect test site to test your microphone and speakers. To test on your mobile device, text 'V' to 83293 or 323-621-3589. Standard text messaging rates may apply. You can also ask your VA care team for a practice session.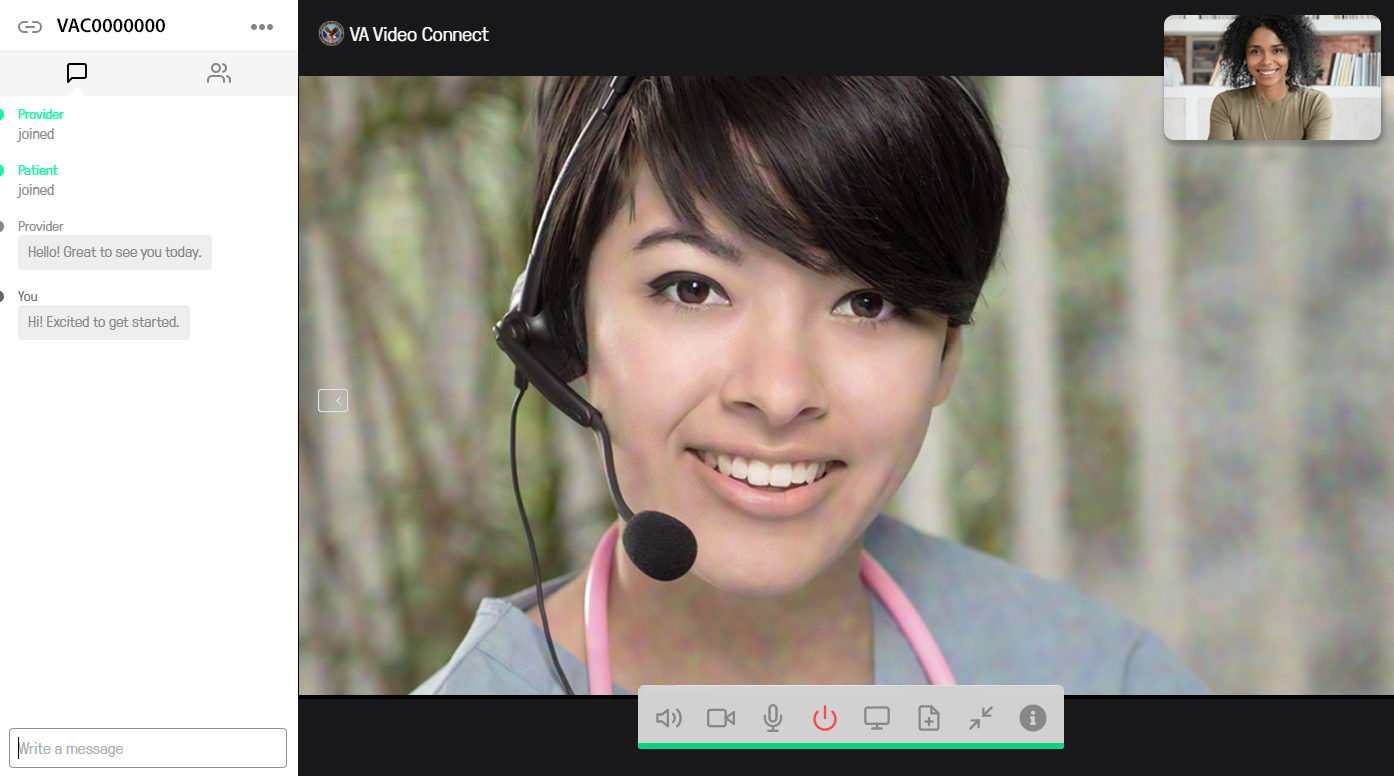 Talk with your VA provider about using VA Video Connect if:
You live far from your VA facility or have limited access to VA facilities.

You have health conditions that make traveling to the VA specialist you need difficult.

You lack time to regularly attend in-person appointments.

You don't require a hands-on physical examination.
Download VA Video Connect brochure.
Features:
Participate in secure video appointments with your VA providers

Chat with your VA care team
Get Started with VA Video Connect
Talk with your VA health care team about using VA Video Connect. If you are interested in receiving care through VA Video Connect, speak with your VA care team to decide if it is right for you.

You can use the VA facility locator to find your nearest VA Medical Center by entering your city, state, or ZIP code, then selecting "VA Health" from the facility drop-down menu. VA Telehealth is based out of your nearest VA Medical Center, not Community-Based Outpatient Clinics or Vet Centers.

Get set up. Once you make an appointment to meet with your VA provider through VA Video Connect, you will receive an email notification from VA with instructions. On the date and time of your appointment, open VA Video Connect by selecting your appointment link included in the email you received.

​

Windows and macOS.

VA Video Connect opens automatically in a web browser on Windows, macOS, and Android devices after clicking the link in your email.

Android. New VA Video Connect Android app 1.0 released. The new VA Video Connect for Android app provides a user experience optimized for Android. To install: Android users can search for VA Video Connect on Google Play and then download it for free. VA Video Connect will continue to open in Android device web browsers if the Android app is not installed.

​Apple iPad and iPhone. For VVC sessions that require the use of VA peripheral devices such as BP Monitor, thermometer, scale, Pulse Ox, Eko Duo Stethoscope, the VA app is required. Visit the Apple App Store and search for "VA Video Connect". For VVC sessions that do not include the use of VA peripherals, the VVC app is recommended but not required. If a device does not have the VVC app installed, the device will launch VVC Web when joining a video visit. Note: Some email apps on iOS devices such as Gmail and Yahoo will need to be set to open the Safari browser for VA Video Connect to open.


Test your device. Visit the VA Video Connect test site to test your microphone and speakers. To test on your mobile device, text 'V' to 83293 or 323-621-3589. Standard text messaging rates may apply. You can also ask your VA care team for a practice session.

VA Video Connect Instructions for Patients

Time: 2:37 minutes

VA Video Connect Demonstration

Time: 00:57 seconds

VA Video Connect Troubleshooting Tips

Time: 4:46 minutes

With Veterans and VA care teams using VA Video Connect more than ever before, Connected Care Communications produced a new video that offers troubleshooting tips for VA Video Connect to address common technical difficulties and help foster long-term adoption of the video telehealth tool. The 4-minute video provides tips to troubleshoot and resolve each of seven main issues that users commonly face:

Download Materials

Highlights

VA-issued Veteran iPad Bluetooth Peripheral Setup Guides

VVC iOS Veteran Instructions for Pairing of Stethoscope
VVC iOS Veteran Instructions for Pairing of Blood Pressure
VVC iOS Veteran Instructions for Pairing of Weight Scale
VVC iOS Veteran Instructions for Pairing of Temperature Gauge
VVC iOS Veteran Instructions for Pairing of Pulse Oximeter

Frequently Asked Questions

Application Feedback Form