Real-Time Access to Your VA Care Team Through VA Video Connect
VA Video Connect allows Veterans and their caregivers to quickly and easily meet with VA health care providers through live video on any computer, tablet, or mobile device with an internet connection.
Need Help? VA can help you get set up or troubleshoot technical problems. Call the VA National Telehealth Technology Help Desk at 866-651-3180 or 703-234-4483, Monday through Sunday, 24/7/365.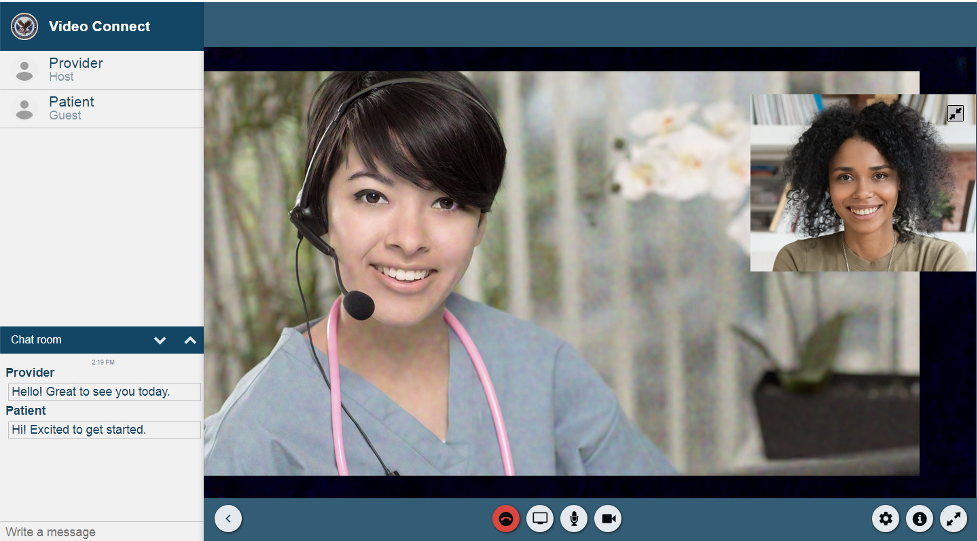 Talk with your VA provider about using VA Video Connect if:
You live far from your VA facility or have limited access to VA facilities.

You have health conditions that make traveling to the VA specialist you need difficult.

You lack time to regularly attend in-person appointments.

You don't require a hands-on physical examination.
Features:
Participate in secure video appointments with your VA providers

Chat with your VA care team
Get Started with VA Video Connect
Talk with your VA health care team about using VA Video Connect. If you are interested in receiving care through VA Video Connect, speak with your VA care team to decide if it is right for you.

You can use the VA facility locator to find your nearest VA Medical Center by entering your city, state, or ZIP code, then selecting "VA Health" from the facility drop-down menu. VA Telehealth is based out of your nearest VA Medical Center, not Community-Based Outpatient Clinics or Vet Centers.

Get set up. Once you make an appointment to meet with your VA provider through VA Video Connect, you will receive an email notification from VA with instructions. On the date and time of your appointment, open VA Video Connect by selecting your appointment link included in the email you received.

​

Windows, macOS, and Android.

VA Video Connect opens automatically in a web browser on Windows, macOS, and Android devices after clicking the link in your email.

​Apple iPad and iPhone. Apple iPhone and iPad users will need to download the VA Video Connect iOS app ahead of time. Visit the Apple App Store and search for "VA Video Connect." Note: Some email apps on iOS devices such as Gmail and Yahoo will need to be set to open the Safari browser for VA Video Connect to open.


Test your device. Visit the VA Video Connect test site to test your microphone and speakers. You can also ask your VA care team for a practice session.

VA Video Connect Instructions for Patients

Time: 2:37 minutes

VA Video Connect Demonstration

Time: 00:57 seconds

Download a VA Video Connect brochure.

Download Materials

Highlights

Downloadable Quick Guides

Frequently Asked Questions

VA Needs Your Feedback!