VA mobile apps must meet safety and usability requirements set forth by the Human Factors Engineering (HFE) division within the Clinical Informatics and Data Management Office (CIDMO).
What is Human Factors Engineering?
As a discipline, human factors engineering studies how people interact with devices, products, and systems. Behavioral science, engineering, and other disciplines come together to help assure that devices and systems are usable by the people who are meant to use them. Human Factors Engineering (HFE) is a division within the Clinical Informatics and Data Management Office (CIDMO) in the Office of Health Informatics (OHI).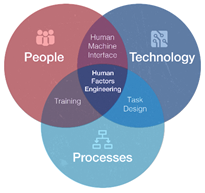 HFE's mission is to maximize efficiency, effectiveness, satisfaction, and safety of VA systems by using analysis methods and design principles based on knowledge of human capabilities and limitations. This effort takes place throughout the engineering lifecycle. HFE focuses on collaborative efforts to optimize design, minimize risk of human error, and ensure systems and services are engineered for human use.
What does HFE do?
HFE offers analysis, design, and testing methods to improve the safety and usability of systems used by Veterans, Caregivers, and VHA employees. Its goal is to maximize system performance. HFE promotes the benefits of the Human Centered Design process, which aims to make systems usable and useful by focusing on the users, their needs, and end-user requirements.
In support of OHI's mission, HFE provides guidance on human performance risks and issues in order to enable informed decision-making. It makes recommendations that result in streamlined policies, processes, procedures, and operations. It also advises on ways to reduce operating costs, increase safety, performance, efficiency, and effectiveness of health information technology across VA.
For VA Mobile, the HFE team works with developers to ensure that mobile applications meet usability standards and "acceptable use" criteria. These reviews are meant to ensure a minimum level of usability by identifying issues that would lead to dissatisfaction among end users.
What is the value of involving HFE?
Use HFE early to gain knowledge of user needs when there is high design flexibility, available resources, and low risk. Without early validation of customer or end user needs through HFE, risk is back loaded. The goal is to identify any potential risks early in the development process, and avoid the need for design changes later in the process due to unforeseen risks. If risks are not identified until later in the system development lifecycle, there may be much less design flexibility and a lack of resources to addresses issues that may arise.
How and when can you get involved?
The earlier HFE can engage with project teams, the higher the likelihood of positively impacting information architecture and optimizing the user interface design. Considering usability early in the design process will reduce the number of iterations needed to create an effective, efficient, and safe product. This ultimately saves time and money. When first setting development requirements, consider the opportunity to consult with HFE, so we can provide recommendations for the best way to incorporate HCD in your development process.
To learn more about HFE and its services or request support contact vha10p2hfq@va.gov. Developers should visit HFE's Mobile App Review Process to learn more about how HFE can help ensure a positive, meaningful and valuable experience for your users.